Image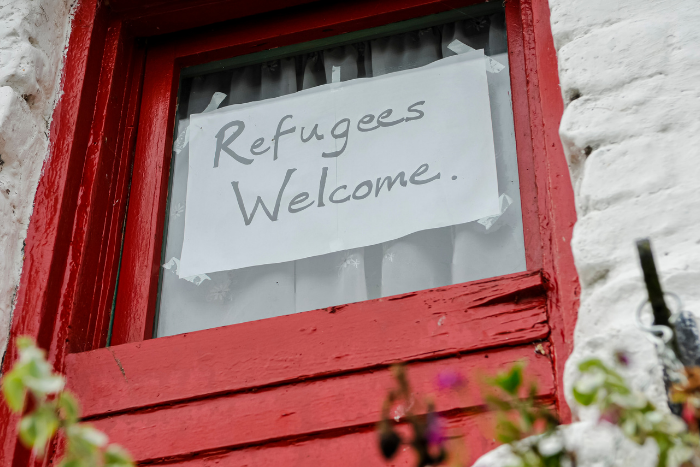 As we face the world's worst global refugee crisis, the United States has failed to do all that it is capable of to support robust refugee resettlement. More than 80 million people worldwide have left home to escape conflict and persecution, surpassing the previous record of displaced persons after World War II. Refugees – those forced to flee their country for fear of persecution, war, or violence – account for about 25.9 million of those displaced.
Over the past several years and amidst this crisis, the U.S. refugee resettlement program has been dismantled, a move that has had catastrophic consequences for millions of vulnerable people and has stripped the U.S. of its status as global humanitarian leader.
In January 2017, then-President Trump issued the first of three executive orders banning entry to the United States for people from specific countries, a series of orders that met continual legal challenges. These bans barred travel from predominantly Muslim-majority and African countries, many of which continue to be the highest sources of refugees globally. On day one of his presidency, President Biden repealed these travel bans, which were "rooted in religious animus and xenophobia." Together, these executive orders not only defied the United States' historical legacy as a land of refuge, but also specifically target Muslim-majority and African countries, reneging on our country's founding principle of religious freedom and present-day stated commitment to racial justice and equity.
The Refugee Act of 1980 granted authority to the president, in consultation with Congress, to determine the annual ceiling for the number of refugees to be resettled in the U.S. each year. Since 1980, the president has historically set the refugee ceiling at an average of 95,000 refugees for one fiscal year (FY).
Then-President Trump set the FY 2021 refugee ceiling at 15,000, another historic low. This number is even more troubling considering that this administration historically had not come close to admitting the number of refugees set by the ceiling. In FY 2018, just over 22,500 refugees were resettled in the U.S. despite a refugee ceiling of 45,000, and in FY 2020, just over 11,800 refugees were resettled, despite a ceiling of 18,000. We applaud the Biden-Harris administration's commitment to increase the FY 2022 admissions goal to 125,000 refugees and urge them to increase the FY 2021 admissions goal immediately. While this step will not suddenly restore and rebuild the deeply damaged refugee resettlement program, it is a vital step in doing so.
While the U.S. has historically led in resettling refugees, we must recognize how racism has played a role in immigration and refugee policy. Congress and the new administration must recognize and address the racism that underpins the U.S. immigration, asylum, and refugee resettlement systems, ensuring they are no longer used as weapons, including against Black and Brown communities within and beyond U.S. borders. We call on Congress, alongside the new administration, to enact antiracist policies that reimagine the foundation of the immigration system to ensure it's just and equitable.
Pirkei Avot states, "It is not your responsibility to finish the work, but neither are you free to desist from it" (Pirkei Avot 2:16). In 2017, in response to a then-record low refugee admissions cap announcement, Rabbi David Saperstein, director emeritus of the RAC and former U.S. ambassador-at-large for international religious freedom said, "America cannot save all the world's refugees by itself. The argument that we cannot do everything, however, must never be used to justify doing less than that of which we are capable."
The United States and the North American Jewish community can and should play a role in helping achieve "that of which we are capable." As a community who has borne witness to atrocities and has sought refuge in new places, it is our responsibility to assist today's most vulnerable populations and promote fairness, compassion, and equity.
Here are just a few opportunities to support refugees and refugee resettlement:
Participate in HIAS' Refugee Shabbat: Over Shabbat on March 5-6, 2021, the Jewish community will dedicate sacred time and space to refugees and asylum seekers. Learn more and register to participate today.
Apply for an Immigration Justice Mini-Grant: This round of Kraus Immigration Justice Mini-Grants will support congregations' essential work to support young (under 25 years of age) immigrants, asylum seekers and refugees. Applications are open through Thursday, March 25. Learn more and apply now.
Urge Congress to support passage of the NO BAN Act: Call upon Congress to pass legislation to repeal all versions of the refugee, Muslim-targeted travel bans, and asylum bans, require travel restrictions to be fact-based and time-limited, and prevent future discriminatory travel bans like those under the Trump administration. Write a letter to your members of Congress now.
Related Posts
Image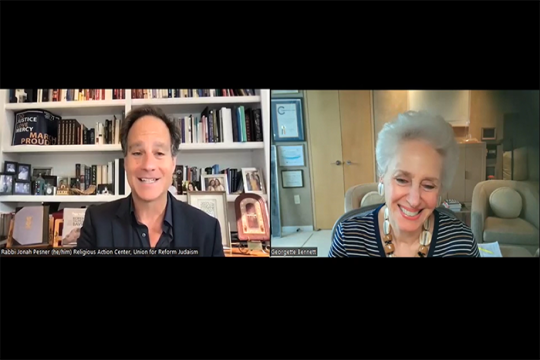 The world is currently facing history's worst refugee crisis. More than 89 million people have left their homes to escape conflict and persecution, surpassing the previous record of displaced persons after World War II. Refugees—those forced to flee their country for fear of persecution, war, or violence—account for about 27.1 million of displaced people.
Image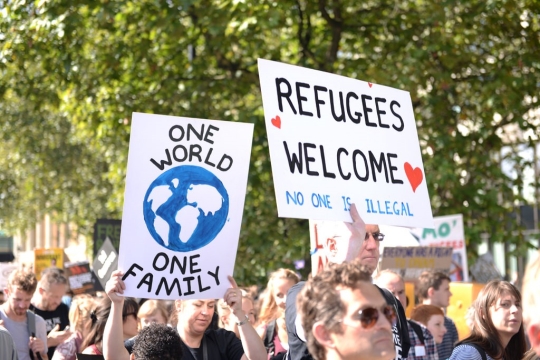 Every year on June 20, we honor the resilience and courage of refugees and celebrate their contributions to our communities and to our entire nation. The best way to honor and celebrate refugees is by taking action to make the U.S. a more welcoming place for those seeking safety.
Image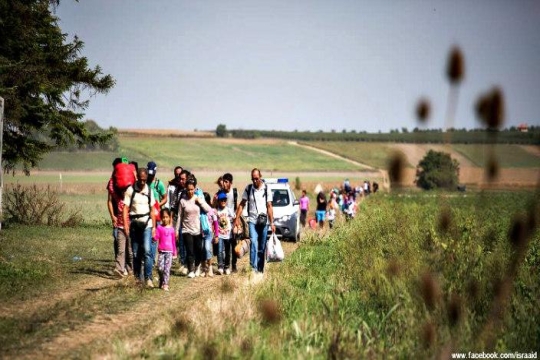 This is a critical time for refugees and asylum seekers worldwide. Those in need of safe homes include Afghan refugees in addition to the millions of other displaced persons worldwide. For the past four years, the RAC has joined HIAS in dedicating a Shabbat experience to refugees and asylum seekers.