Image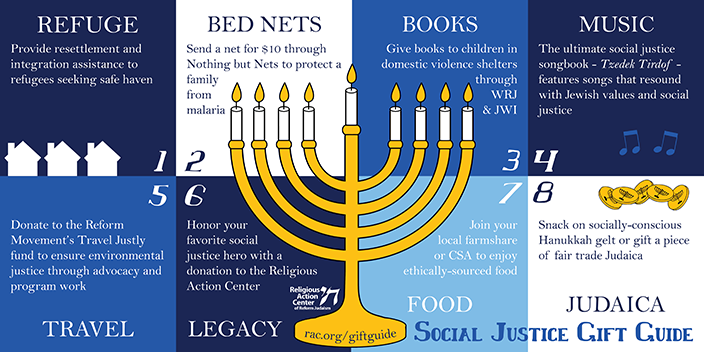 In search of a unique gift for the social justice junkie in your life? Look no further than our Social Justice Hanukkah Gift Guide, with eight suggestions full of tzedek – one for each night!
Give Refuge to the Millions Fleeing Violence and Turmoil
Few stories this year have captured global attention like the plight of refugees fleeing their homes – many from Syria and heading to Europe – in search of a better life for themselves and their families. HIAS is leading the Jewish community response to this crisis, and a gift to HIAS is a gift that will help assist refugees around the world.
Give Nothing but Nets
This Hanukkah, help eliminate malaria death in sub-Saharan Africa by joining the Union for Reform Judaism's Nothing But Nets campaign. With a $10 donation you can provide a life-saving bed net to families who have fled conflict and are living in refugee camps. Make a donation and help save lives today.
Give Books to Children in Need
Women of Reform Judaism is partnering with Jewish Women International to bring books and comfort to some of the close to 15,000 children who are spending the holiday season in domestic violence shelters. For each $18 contribution, JWI will mail a Hanukkah card to any person you would like to honor, letting them know that they have inspired a gift that's helping children in need.
Give the Gift of Music
Have any musicians in your life? Have anyone who believes music can change the world? Give the ultimate social justice songbook – Tzedek Tirdof – featuring songs that resound with Jewish values and transcend personal boundaries. Start a (musical) revolution!
Give Thoughtful Travel 
Know someone who is always on the road? We have the perfect gift idea! Whether it's towels in your hotel room or the carbon emissions associated with your flights, buying offsets through the Reform Movement's Travel Justly fund ensure environmental justice through our grant-making and advocacy work. As you travel this holiday season, give an additional present than just your presence.
Give a Legacy of Social Justice
In honor of your favorite social justice hero, considering donating to the Religious Action Center. For more than 50 years, the RAC has been the Reform Jewish voice for justice in Washington, D.C., representing the entire Reform Movement on the most pressing issues of our day – economic inequality, environmental justice and human rights.
The foodie in your family will love the healthy and ethically-sourced foods that come with a share in your local Community Supported Agriculture (CSA) project, purchased through Hazon's Tuv Ha'aretz Jewish CSA program or a farm near you. A few hundred dollars buys an entire season's worth of nutritious food and the opportunity to connect with your community, Jewish values and the environment in the most delicious way!
Give Some Justice, Give Some Jewish
When was that last time you gave some cool Judaica to someone? It's Hanukkah after all, so maybe you should consider giving that Jewish social justice junkie in your life some fair trade Hanukkah gelt from Guilt Free Gelt or a new tallit or challah covering made by Guatamalan artisans receiving fair wages available at Fair Trade Judaica. Check out the fair trade jewelry at Bead for Life or the delicious coffee beans at Equal Exchange.
Related Posts
Image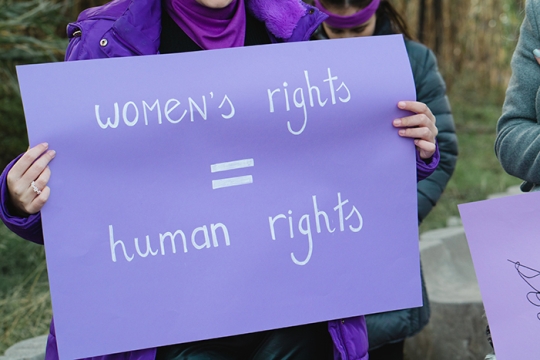 March is Women's History Month, a celebration that recognizes and celebrates the contributions of women throughout the nation's history.
Image
I spent the first year of the pandemic in South Korea, but even before the pandemic, I wore masks because of the bad air days. South Korea's rapid transition from a war-torn nation to an industrial superpower with a GDP equivalent to the State of New York exacted a terrible cost on Korean air quality.
Image
Any day now, Judge Matthew Kacsmaryk will issue a ruling in Alliance for Hippocratic Medicine et al v. U.S. Food and Drug Administration et al, a case that asks the United States District Court for the Northern District of Texas to order the Food and Drug Administration to rescind its 20-year-old approval of mifepristone (one of two medications commonly used in medication abortion)--a major decision that could pull the drug off the market nationwide.