Family and Medical Leave Act (FMLA) was signed into law 22 years ago to allow workers to take a maximum 12 weeks unpaid time off of work to care for a new child (including adopted and foster children); care for a sick child; act as a caregiver for a parent; address personal serious health concerns; and care for wounded service members. 
After the decision in United States v. Windsor, in which the part of the Defense of Marriage Act (DOMA) defining marriage as between a man and a woman for federal purposes was struck down, the Department of Labor announced that FMLA would apply to eligible employees in same-sex marriages if the employee resided in a state that recognized their marriage.
Rachel Laser, Deputy Director of the Religious Action Center, submitted comments last August to the Department of Labor in support of this change when it was proposed. However, on March 18, Texas's Attorney General filed a lawsuit against the new rule, claiming that the rule would have required Texas agencies to violate their constitutional amendment that defines marriage as between a man and a woman. Eight days later and a day before the new rule was supposed to go into effect, a federal judge in Texas blocked the federal rule from being implemented.
On March 31, the Department of Justice filed a request for an April 13 hearing on the injunction, seeking "an opportunity to present argument that the preliminary injunction should not have issued and now should be dissolved." The Reform Movement that has long championed FMLA as a means of lifting up our nation's working families as well as LGBT equality.
Deuteronomy teaches us the importance of promoting the well-being of community members, as it is written "You shall not abuse a needy and destitute laborer, whether a fellow Israelite or a stranger in one of the communities of your land. You must pay out the wages due on the same day, before the sun sets, for the worker is needy and urgently depends on it; else a cry to the Eternal will be issued against you and you will incur guilt" (24:14-15)" and Genesis teaches that all people are created in the Divine image, b'tzelem Elohim (1:27), and should thus be treated with respect and dignity. It is essential that the injunction be lifted as soon as possible in order to ensure that all legally married couples are able to take family and medical leave.
However, a Supreme Court decision in Obergefell v. Hodges striking down marriage equality bans may make the Texas Attorney General's argument moot. The Supreme Court is set to hear oral arguments in Obergefell v. Hodges on April 28. The day before, Evan Wolfson, President of Freedom to Marry, one of the leading LGBT organizations fighting same-sex marriage bans across the country, will be speaking about the fight for marriage equality at the Consultation on Conscience, the Reform Movement's premiere social justice conference. Register now for the Consultation on Conscience from April 26-28, 2015 to hear Evan Wolfson and other social justice advocates, as well as members of Congress, speak about the pressing social justice issues of our time. In addition, consider joining congregations of all faiths around the country for a National Weekend of Prayer for the freedom to marry from April 24-26.
Related Posts
Image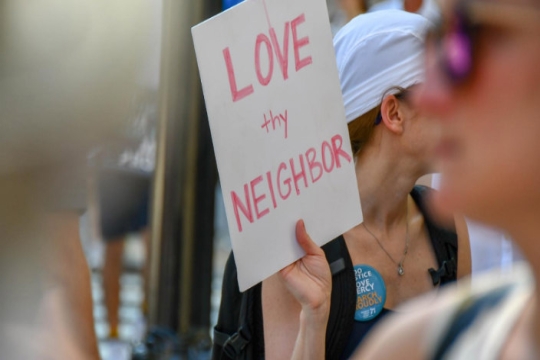 Together, these pieces of legislation would offer a path to citizenship for approximately 2.5 million people.
Image
These remarks are lightly adapted from those presented before the opening plenary of the 2019 Consultation on Conscience on Sunday, May 19, 2019.
Image
This year's event is the biggest in our history, but there are so many more would-be attendees who can't be with us in person. We've made it easier than ever for you to tune in from afar and to join us from home.