Image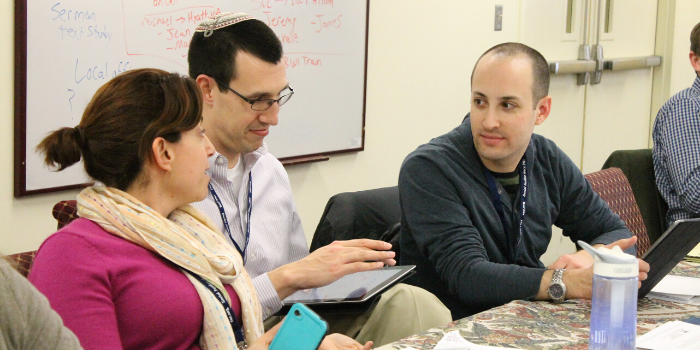 Every two years, the Religious Action Center of Reform Judaism (RAC) hosts the Rabbi Balfour Brickner Fellowship for rabbis and cantors who are looking to bring social justice closer to the center of congregational life. The fellowship honors the legacy of Rabbi Balfour Brickner, a leading activist and voice of the Reform Jewish Movement. Through the fellowship, rabbis and cantors develop organizing skills, engage with RAC initiatives, and root their social justice work in Jewish text and tradition.
This year we are thrilled to welcome a class of twenty-one clergy, who are ready and energized to strengthen their communities' social justice work. Our fellows represent 13 states across the country. The Brickner fellows come from small and large congregations as senior, solo, associate, and assistant rabbis, as well as from college campus Hillels. This cycle marks the first time the fellowship has been open to cantors, and we are pleased to share that two of our fellows this year are cantors. Through this unique blend of experiences and backgrounds, the goal is for Brickner fellows to collaborate and learn from one another's diverse perspectives.
There was a new emphasis this year on ensuring that beyond in-depth learning about social justice, the fellows were equipped with tools to bring back to their congregations to build power for Reform Jewish values. Brickner fellows will be supported with cohort meetings and distance learning opportunities, in addition to the initial kickoff retreat that took place earlier this year. Every other month fellows will meet in small cohort groups to check in with one another. The cohort provides a dedicated time and space for fellows to evaluate the progress of the goals they set during the retreat. Fellows also have the opportunity to deepen their relationships with one another and to engage in peer-to-peer learning. During the months when cohort groups do not meet, fellows learn from experts through virtual distance learning classes. Distance learning speakers bring new insights, knowledge, and skills to deepen fellows' community organizing practices.
Brickner fellows gathered at the Pearlstone Conference and Retreat Center in Maryland to kick off the fellowship with a four-day retreat of training and learning in January. Rabbi Joshua Garroway, Ph.D. from Hebrew Union College served as the scholar in-residence for the retreat. He led the fellows through five in-depth text studies, ranging from defining justice to rabbinic principles on taxation. RAC-IL lead organizer Julie Webb provided the fellows with foundational knowledge of community organizing theory and practice. The Brickner fellows left the retreat with new connections, relationships, and skills to put into practice back at home.
The Brickner Fellowship will culminate with the 2021 Consultation on Conscience in Washington, D.C. By the time of the conference, fellows will have developed the leadership skills needed to move their congregations into the next steps of their social justice work. Through the Brickner Fellowship, rabbis and cantors expand their understanding of social justice through a Jewish lens, deepen their relationships with one another, and strengthen the social justice efforts of their communities in order to bring about a more just, compassionate, and whole world.