Today marks the five-year anniversary of the Patient Protection and Affordable Care Act (ACA), and a lot has changed in the past five years. Thanks to the ACA, the 129 million non-elderly Americans with pre-existing health conditions can no longer be denied coverage or charged more because of their pre-existing condition. Also, millions of low-income individuals are now eligible for Medicaid thanks to ACA expansion of the program. And, a March 16, 2016 Department of Health and Human Services report states that 16.4 million uninsured people have gained health insurance coverage since 2010 under the Affordable Care Act. These improvements, among many others, on the five year anniversary of the ACA are a cause to celebrate and rededicate our commitment to affordable and accessible care for all.
Perhaps, one of the most important parts of health care reform is its impact on minorities. Minorities have benefited greatly from the reforms of the ACA and this week, LGBT Health Awareness Week, it is important to highlight the ACA's impact on LGBT Americans, alongside the continued health-related barriers facing LGBT Americans. A 2013 survey found that one in three LGBT people are uninsured, with 44% of all LGBT people surveyed reporting that they had delayed medical care because they could not afford it.
However, provisions in the Affordable Care act will greatly impact LGBT people. Since LGBT individuals are more likely than their straight counterparts to live in poverty, they will greatly benefit from Medicaid expansion. In addition, health insurance plans provided through the state health exchanges established by the ACA are prohibited from discriminated based on sexual orientation and gender identity. Additionally, health care providers are prohibited under the ACA from discriminating on the basis of race, color, national origin, sex, age, or disability, and HHS has announced that discrimination on the basis of gender identity and sex stereotypes is also prohibited under the ACA's sex discrimination provision. However, there are still no explicit protections based on sexual orientation.
In a couple of weeks, we will celebrate Passover, a story of overcoming oppression. Yet, while the Jewish people may have escaped slavery from the land of Egypt, people of all backgrounds, continue to face discrimination and oppression based on their sexual orientation and gender identity. Whether it's disparate health outcomes, greater rates of poverty, or higher suicide rates, the impact of discrimination on LGBT individuals is clear.
The RAC's Passover resource guide offers a variety of ways to highlight the fight for LGBT Equality in your Passover seder, including an LGBTQ Pride Freedom Seder Haggadah. If you are looking to modify your existing haggadah, our reading inserts cover not just LGBTQ topics but other social justice issues as well.
As a Movement grounded in the belief that all people are created b'tzelem Elohim, in the image of God (Genesis 1:27), we are committed to fighting anti-LGBT discrimination.
At the RAC's Consultation on Conscience, the Reform Movement's flagship social justice event, from April 26 – 28, 2015, Evan Wolfson, president and founder of Freedom to Marry, will talk about the fight for marriage equality in the United States. While marriage equality is not the panacea for all of the discrimination facing the LGBT community, the ability to get legally married has helped LGBT Americans in same-sex relationships by allowing them to access the many benefits that straight couples have always been afforded (especially benefits related to health care!). Register now for the Consultation on Conscience and learn more about the ongoing struggle for LGBT equality in America.
Related Posts
Image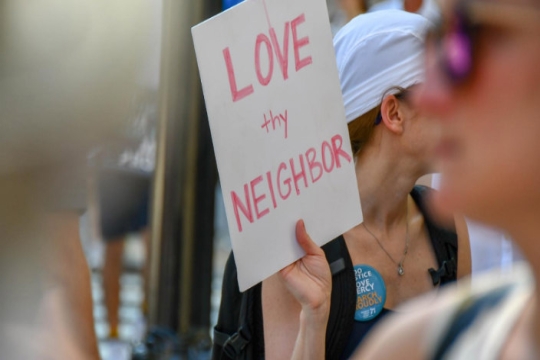 Together, these pieces of legislation would offer a path to citizenship for approximately 2.5 million people.
Image
These remarks are lightly adapted from those presented before the opening plenary of the 2019 Consultation on Conscience on Sunday, May 19, 2019.
Image
This year's event is the biggest in our history, but there are so many more would-be attendees who can't be with us in person. We've made it easier than ever for you to tune in from afar and to join us from home.